From the air, they look like a web of tiny silver threads spinning across the patchwork quilt of the Kerala coast. Canals, sometimes as narrow as an arm-span, sometimes broadening out into vast, misty lakes. Straight as an arrow, or curling gracefully through scented forests of coconut, pepper and cinnamon.

These are the backwaters of Kerala. And their life's blood are the boats that ply here, used for housing, transport, commuting, commerce and in recent times, pleasure.

The queen among these is the 'Kettuvallom', the traditional rice barge, with its sturdy build and stately carriage.

Today, the Kettuvallom offers the visitor to Kerala an entirely new kind of experience. Combining holidaying, pleasure boating and ecological living in an exhilarating way.

The backwaters are an ecology unlike any other on earth. Rivers rush down from the Cardamom Hills to drain breathlessly into the plains, forming rivulets, canals and dozens of shallow, broad lakes. These, in turn, merge with the estuaries of the Malabar Coast. Finally, criss-crossing this natural system are a network of man-made waterways, centuries old, that give the region its life and special character.
(When Vasco da Gama arrived in these parts, he found the backwaters much as you will experience them today).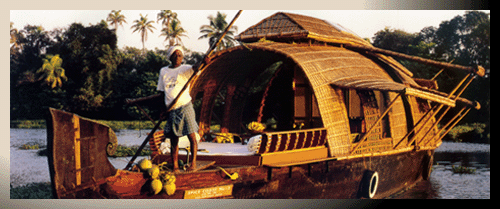 Elaborations in Wood and Rope
Our Spice Coast cruises feature single and two-bedroom houseboats, complete with kitchens, bathrooms and your own personal cooks-cum-attendants-cum-boatmen.

The boat hulls are made from seasoned 'Anjili' (Jackfruit) logs, that have a natural gentle curvature. Keels are flat, because the rivers here can get mighty shallow at times, and also to allow the boat to be easily punted. (They come with a quiet outboard motor too, so the boatman can get some rest)
Respecting the ancient character of the Kettuvallom, we took an integrative approach to the interiors. You'll see natural and local materials everywhere, products of the forest of wealth that surrounds the backwaters. The decks are laden with coir matting, and the distinctive canopy uses split bamboo, lashed together with coir and covered with palm fronds.

Note the winged awnings, that, when raised, give the houseboat a distinctly rakish air. Legend has it that they're a Chinese influence, (like the fishing nets). Be that as it may, we put in a few extra ones, to take full advantage of the breeze, and so you can get a better look at the view.

Satori in a Spice Boat
The Japanese managed to put it in a single word - 'Satori'. A sudden flash of experience that leaves its mark on your soul and colours all your life afterwards.
To cruise the myriad beauties of the backwaters is to invite Satori. So close your eyes for a minute and let your imagination wander with us.
You are on the boats' forward sundeck, comfortably ensconced in a rosewood-and-cane easy chair. Before you is a 19th century table and upon it is a fresh coconut, its water spiked with lime.

Your boat moves towards the mouth of the Kavanar river at a scorching 6 miles an hour. Hmmm. It would be a fight to keep your eyelids from closing, except that a refreshingly soft breeze angles in westerly, off the Vembanad lake. It carries the cries of distant darter birds, surprisingly loud over the waters.

You move upstream, and the gentle life of another world unfolds around you. A man, for some reason, gives his pig a bath on the riverside steps. A child smiles and waves shyly from behind a jackfruit tree. A dugout canoe, dangerously laden with a cargo of rice, passes by. You watch anxiously, but the water, ever threatening to slop over into the boat, never quite does so, and before you know it, its master has expertly manoevered the vessel to the far bank.

The Fragile Biosphere
A paradise in very real danger of being lost. The ecology of the backwaters is under threat from factors such as silting, overfishing and industrial effluents. The recent upsurge in tourist activity has given new economic life to the local society, but also served to spoil some of its most charming characteristics.

Traditional Houseboat Cruises.

ACCOMMODATION : One and Two Bedroom Kettuvalloms

FACILITIES : Living room, bed room with attached bathroom
Solar power
Crew - Navigator / cook
Regular doctors on call

DISTANCES : 55 kms from Cochin
95 Kms from Cochin international airport

SEASONS : Jan - Mar: cool, dry
April - May: Summer
June - August: Monsoon
Sept - Dec: pleasant, dry