Kalari Kovilakom, the palace of the ancient Vengunad Kingdom in Kerala now converted into a palace for Ayurveda, offers Ayurveda in its most authentic and substantive form as the Rajas of Vengunad would have had it. Wiithout wine, meat and shoes.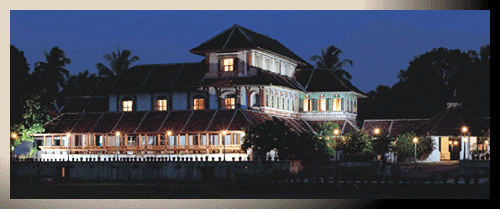 Adhering to the strict tenets of Ayurveda as an universal healing art rather than a medical system, the treatment offered is a combination of the physical, psychological and spiritual therapies in our approach to health that is relevant to the modern world as it was to the ancient world. Nothing has been re-invented, nothing diluted.
Ayurveda works from outside in. Yoga works from inside out. Both in harmony works towards the wholeness.

While living in the comforts of the "The Palace", you will have a glimpse of an experience of the lifestyle that was advocated in the ancient Indian Traditions. This lifestyle helps you to balance your energies, to balance the outer material world and the inner spiritual self.
"Most people live - Whether physically, intellectually or emotionally - in a vertical circle of their potential being."
Accommodation Details

Validity : 01 January 2008 to 31 December 2008

Seasons

Duration

Single (Euro)

Double (Euro)

Kovilakom Suites

14 days

4830.00

7245.00

Vengunad Suites
14 days
6440.00
8855.00
Kovilakom Suites
21 days
6641.00
10264.00
Vengunad Suites
21 days
9056.00
12679.00
Kovilakom Suites
28 days
8050.00
12880.00

Vengunad Suites

28 days

11270.00

16100.00


Accompanying person without treatment Supplement:
Euro 35 per night


All our package rates includes the cost of all consultations, treatments, massages, oils, herbs, accommodation, Yoga , meditation ,food and the clothes we provide for you on arrival. It also includes pick up and drop from Coimbatore or Cochin airports. (The 2 nearest airports). Booking is done by making a 50% advance payment and the balance payment may be made any time before your departure from Kalari Kovilakom. Full refund if cancelled 30 days in advance. 50% refund if cancelled 21 days in advance. Nil refund if cancelled less than 20 days.

For booking the above Ayurveda package, pricing or your travel assistance, please submit details with this Form or contact us at: info@mintvalley.com