For CGH Earth Group, the Casino Hotel was the beginning.

For the first time visitor to Kerala it's the ideal place to start. For here you can transit gracefully between two worlds. On the one hand, the cosmopolitan delights of Cochin, with its restaurants, shopping and entertainment. On the other, Kerala's unique culture, manners and cuisine.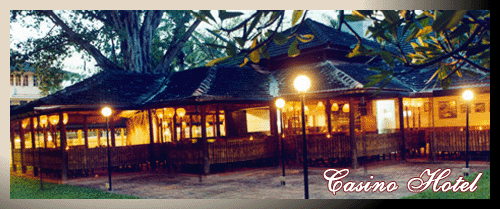 To Willingdon Island

The Hotel is located on Willingdon Island, a man-made legacy of the Raj era and one of the reasons why Cochin ranks amongst the world's finest harbours.

As you drive to to the hotel, you pass the massive dockyards of this ancient port, omnipresent coconut trees and stretches of glittering Arabian Sea

The Casino Hotel greets you in a traditional 'varvelpu', or welcome. The garland, the aarti and the proffered coconut water are gestures you'll become familiar with as you journey through our state.

Now properly introduced, you are guided you to your room. Simplicity and elegance are the lietmotifs, as indeed they are in all our properties. The parquet floors in the room are a distinctive touch and you can luxuriate with bubble bath and shampoo from the little clay

pots in your spacious bathroom. Once you're rested, ready, and refreshed, it's time to sail into Cochin.

Splendours, New and Old.

If you've never been to an Indian city before, Cochin could be a riot of sensation at first sight. It's one of the most cosmopolitan cities in India, yet mixes all the spice of tradition with its modernity.

Bustling Ernakulam is the newer and commercial part of the twin cities. Enjoy your last scoop of Chocolate Chip icecream for a while (the Keralan desserts will ensure you don't miss it much). Visit the malls and stores if you want to stock up on clothes or personal effects. Most of the world's leading brands are available here and if you're adventurous enough, so are lots of colourful options in sarees and 'mundus' (the traditional Keralan mens' dress).

But if Ernakulam is the heart, then the soul of Cochin lies in its older quarters.
Here, eight centuries of history are on display, as are a kaleidoscope of cultures. In a span of a few kilometers, you can see a Dutch Harbour house, India's oldest Jewish synagogue, The Catholic St Francis Church, Portuguese navigator Vasco Da Gama's grave, The Hindu Raja of Cochin's Mattancherry Palace, The British Raj-era Cochin Club, and the towering Chinese fishing nets on the harbour!

It's not surprising that the city teems with art experts and buyers from Christie's, Sotheby's and the like - Cochin abounds in colonial antiques and is considered something of a mecca for enthusiasts.

Familiar Pleasures
Excursions into the town can be as tiring as they are exhilerating. Specially if you're not so used to the climate (Kerala usually oscillates between breezy warmth, pouring rain and torrid sunshine!). The Cascade pool can be the perfect restorative. Swimsuits are available in the gift shop - which is worth a visit, even if you aren't so keen on a dip. You'll find exquisite examples of traditional Keralan crafts, exotic fabrics, garments, books, handbags and all sorts of fascinating bric-a-brac.

Another great way to relax is an ayurvedic massage. Ayurveda is the ancient Indian system of medicine, and the Casino has its own resident experts and fully equipped facilities

Dusk falls quickly in this part of the world. If the cocktail hour beckons you, the Vasco da Gama lounge is the hotel's ever-popular watering hole. You can linger over exotic cocktails (Cochin Thunder, Pink Ladies and some superb concoctions based on the local tipples) or in a new twist, sample some health drinks based on ayurvedic ideas.

If you're in a mood to confer, the Durbar Hall is the place. It accommodates upto 350 people in gracious style. For smaller gatherings you can opt for the Harbour Lounge Banqueting Suite, which seats 40.

Kerala on a Platter
The restaurants at the Casino hotel have become institutions for Cochin's food lovers. If you feel a need to temper the exotic with the familiar, The 'Tharavadu' is the place to begin. It serves an extensive buffet for breakfast, lunch and dinner. Your first breakfast in Kerala could be good ol' scrambled eggs, your lunch roast chicken and a shrimp salad, your dinner a fiery squid curry and appams ( fluffy rounds of fermented rice and pulses, the traditional accompaniment to Kerala meals). The range of Indian and Continental cuisine is vast.

Tharavadu, incidentally means traditional cottage (the 'u' is almost, but not quite, silent. But don't worry too much! Only a home grown Keralite can bend his tongue around the intricacies of Malayalam pronounciation.)

The speciality seafood restaurant, Fort Cochin, is our pride and joy, perpetually popular, though it is open only in the evenings.

Good Housekeeping called Fort Cochin "one of the most renowned seafood restaurants in India". Eating here is like diving off a springboard into the flavours and textures of food throughout Kerala.

ACCOMMODATION : Standard Rooms, Suites

RESTAURANTS : Tharavadu - Multi cuisine restaurant
Fort Cochin - sea food specialty and Vasco da Gama - bar

FACILITIES : Swimming pool, Gift Shop, Ayurveda Centre
Regular doctors on call

CONFERENCING : Durbar hall - capacity 300 Pax. Theater style
150 Pax. Class room style; 50 Pax. U shape

THINGS TO DO : Sightseeing in Fort Cochin / Mattanchery
Harbour cruise, Shopping

DISTANCES : Situated on Willingdon Island,
41 Km from Cochin international airport.
12 Km from downtown Ernakulam.

SEASONS : Jan - Mar : cool, dry
April - May : Summer; June - August : Monsoon; Sept - Dec : pleasant, dry.